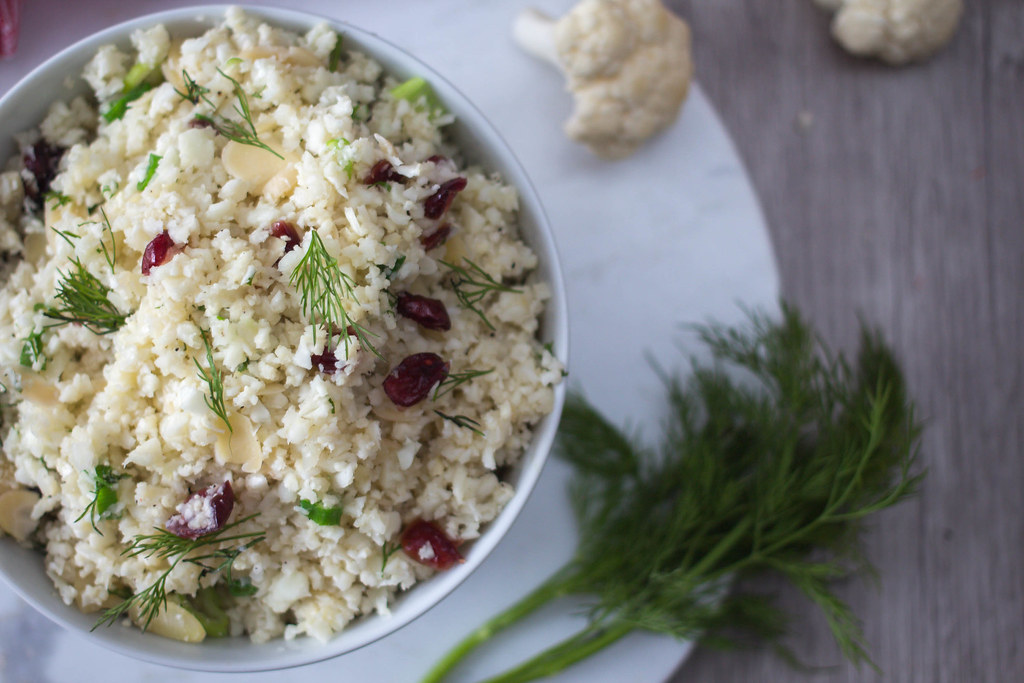 Cauliflower rice is an amazing grain-free, low-carb and paleo-friendly rice alternative. It's healthy, delicious and a secret way to get more veggies into your diet. Also, this healthy cauliflower rice recipe is packed with veggies and easily can be made in just 10 minutes in your own kitchen.

How To Make Cauliflower Rice
Easily, you can rice the cauliflower yourself using your food processor. It'll take only 10 seconds.
First of all, separate the cauliflower florets from the head of your cauliflower.Grate your cauliflower florets using a box grater or you can use the grater attachment
on your food processor.
To add flavor to the cauliflower rice, Sauté ½ an onion with a little olive oil in a pan.
Now, add your grated cauliflower to the pan and sauté for 5-7 minutes.
Before you serve, season with salt and pepper and if you want, add some of the tasty flavors to increase your meal taste mentioned below.
And after it is done, this fried rice takes just about 10 minutes or less.

That's the best part of using cauliflower instead of rice. Not only it is healthy but also you don't have to wait that 20-30 minutes for your rice to be cooked.

You can just mix everything together in a pan, add your seasonings and give it a shake. That's about it.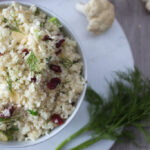 Print Recipe
Cauliflower Rice
Ingredients
1/2

cup

frozen peas

24

oz

cauliflower florets

1

tbsp

freshly grated ginger

2

large eggs

beaten

2

tbsp

reduced-sodium soy sauce

6

ounces

broccoli florets

chopped

1

onion

diced

1/2

tsp

sesame seeds

2

tbsp

vegetable oil

divided

1/2

cup

frozen corn

1/4

tsp

white pepper

2

cloves

garlic

minced

1

tbsp

sesame oil

2

carrots

peeled and grated

2

green onions

thinly sliced
Instructions
While making the cauliflower rice, pulse the cauliflower in a food processor until it looks like rice, spend 2-3 minutes then set aside.

Whisk together sesame oil, ginger, soy sauce, and white pepper in a small bowl; set aside.

In a medium skillet, heat 1 tablespoon vegetable oil over low heat. After adding eggs, cook them evenly about 2-3 minutes each side, flipping only once. Before dicing into pieces, let them cool; set aside.

Heat the other remaining tablespoon vegetable oil in a large skillet. After adding onion and garlic to the skillet, cook them until onions have become obvious, and stir occasionally about 3-4 minutes. Then stir in corn, carrots, broccoli, and peas and cook, stir continuously until vegetables are tender, about 3-4 minutes.

Stir the mixture of soy sauce, green onions, eggs, and cauliflower. Until heated through and the cauliflower is tender, cook them and stir constantly about 3-4 minutes.

If desired, garnish with sesame seeds and of course, serve immediately to enjoy the best taste of your cauliflower rice recipe.
This post was submitted as a guest post by Alamin Howlader from Kitchen Products reviewed