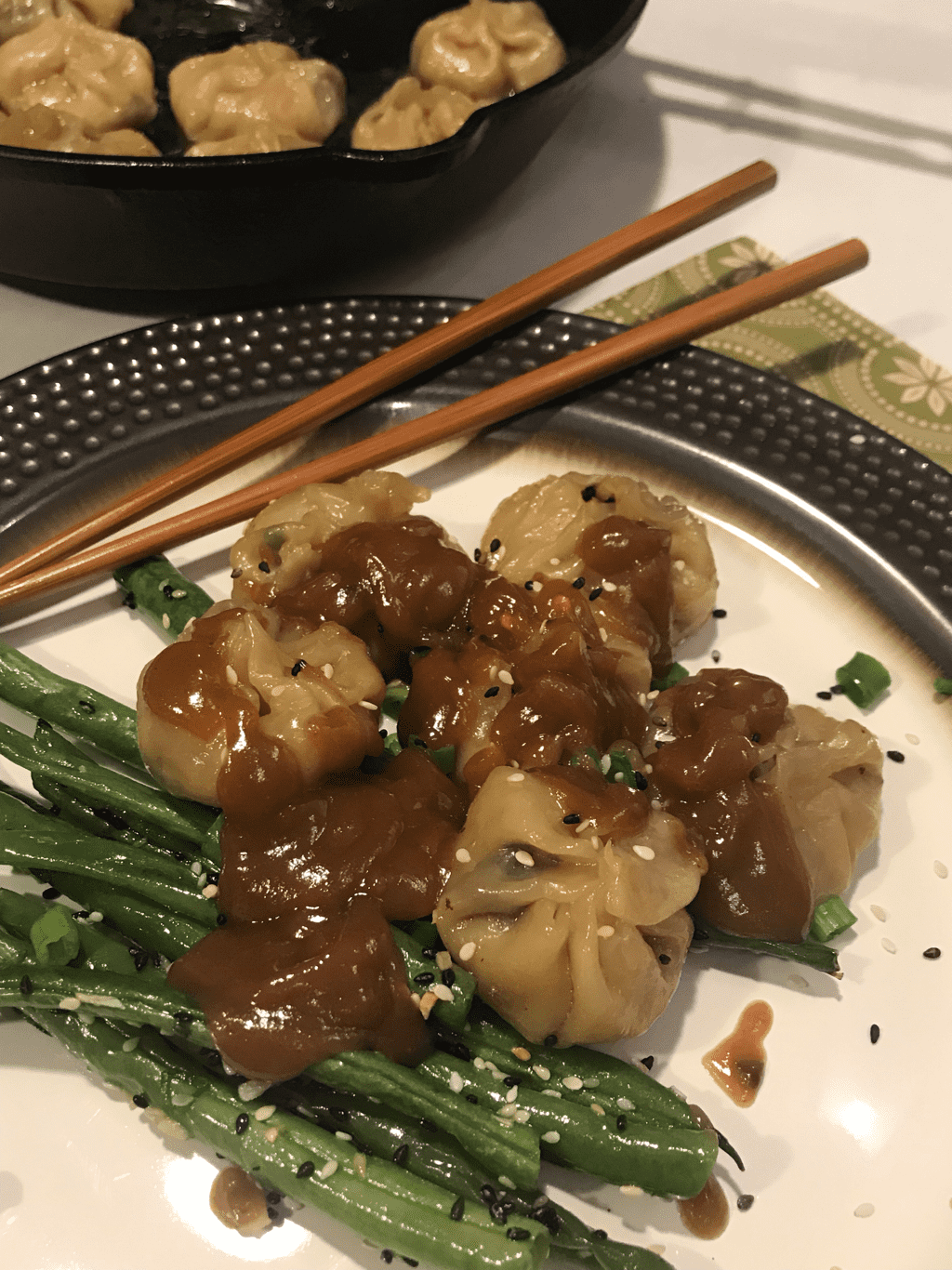 Veggie Dumplings in Peanut Butter Sauce & Sesame Green Beans
So if you've been following my blog for a while you'll know that I absolutely love peanut butter. I've never made dumplings from scratch and I have to say that they're most definitely worth the little bit of extra effort to put together. These tiny little parcels are packed full of mouth-watering flavor. This recipe serves 2, you can always multiply the recipe to make as many as you need though.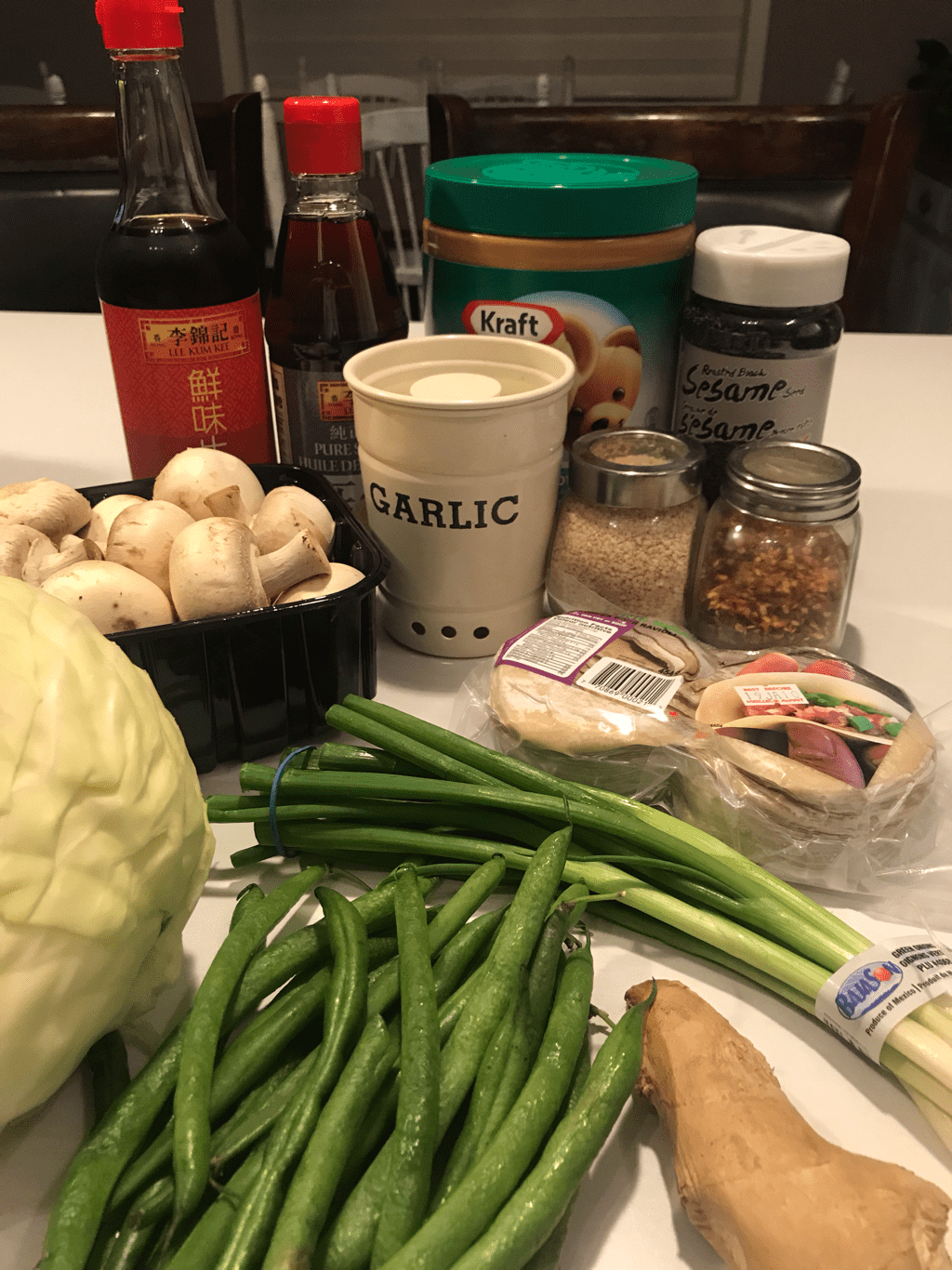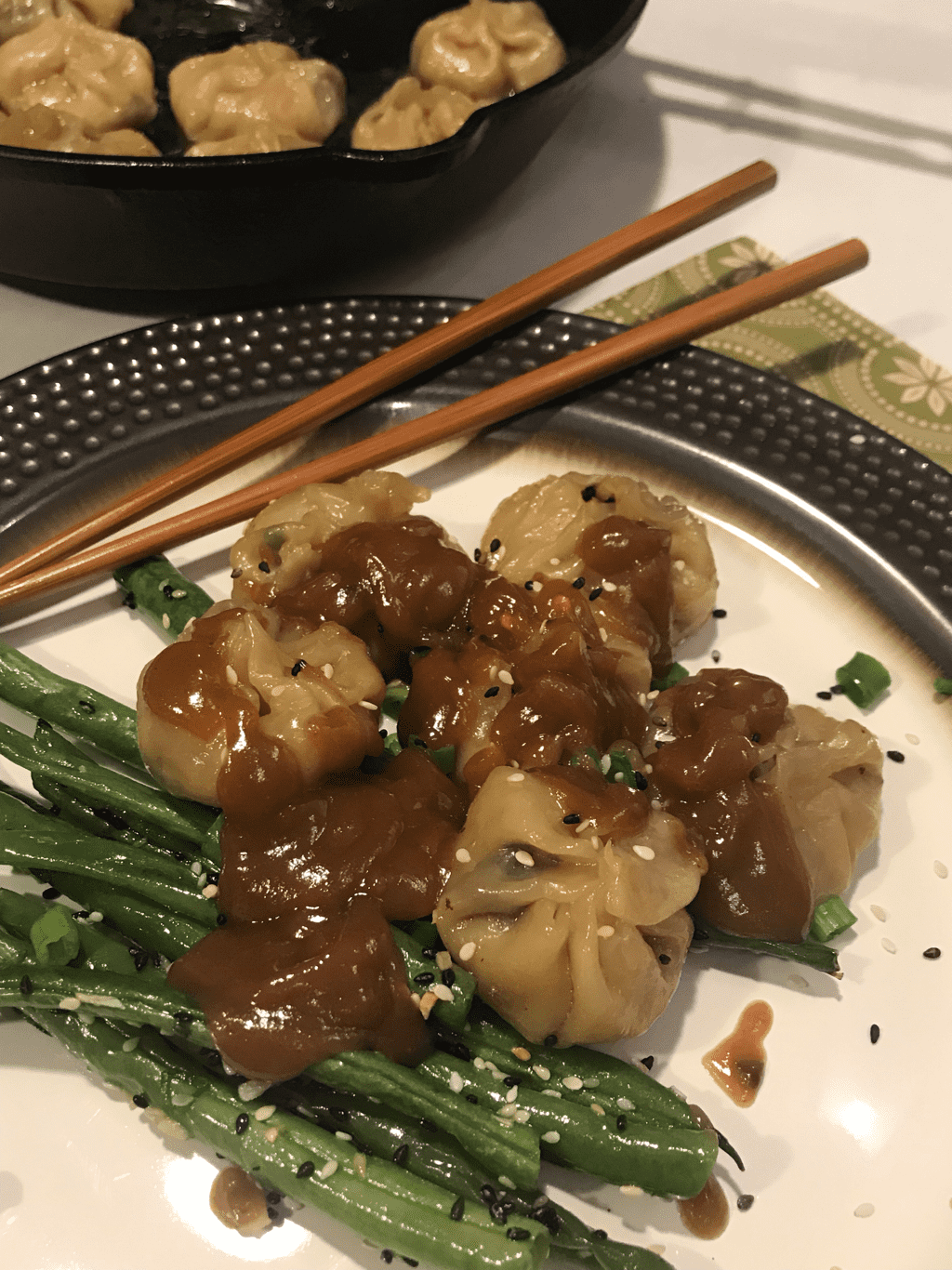 Print Recipe
Veggie Dumplings in Peanut Butter Sauce ​& Sesame Green Beans
Ingredients
Roasted Beans:
1

cup

Green beans

ends trimmed

2

Garlic cloves

crushed

1

tsp

black and white sesame seeds
Dumpling Filling:
1

tbsp

Ginger

minced

2

Scallions

sliced and separated greens/whites

3/4

cup 

shredded napa cabbage

any cabbage works

2/3

cups

Shiitake mushrooms

thinly sliced

1

tbsp

Soy sauce reduced in sodium

2

tsp

black & white sesame seeds

20

Dumpling wrappers
Peanut Butter Sauce:
1/2

cup

Peanut butter

1

tbsp

Sesame oil

1

tbsp

soy sauce

1

tbsp

honey

pinch

of chili flakes

Oil

Salt & pepper
Instructions
Beans:
Preheat the oven to 425°​

On a lined sheet pan, toss the green beans and garlic with a drizzle of oil and season with salt and pepper.

Arrange the beans in a single layer and roast in the oven for about 10 minutes (stir them once and bake until tender).

Remove from the oven and sprinkle with sesame seeds and half of the green tops of the scallions.
Peanut Butter Sauce:
Combine all of the sauce ingredients along with 1/4 cup of water and bring to a simmer.

Cook for 2-3 minutes until all the ingredients are combined and the sauce has slightly thickened.
Dumplings:
In a large non-stick pan, heat a drizzle of oil on medium-high. Add the ginger and white bottoms of the scallions. Cook, stirring frequently, 30 seconds to 1 minute, until fragrant.

Add the mushrooms, cabbage and  soy sauce season with S&salt and pepper. Cook, stirring occasionally, 4 to 5 minutes, until the vegetables have softened.

Transfer to a bowl and wipe out the pan.

Fill a small bowl with lukewarm water. Place 5 dumpling wrappers at a time on a clean, dry work surface. Spoon about 1 tsp of the filling into the center of each wrapper. Working one at a time, use your fingers to lightly moisten the edges of the wrappers with water. Pull the edges of the wrapper up around the filling, twisting them at the top to create a little purse.

In the pan used to make the filling, heat a light drizzle of oil on medium-high. Add the dumplings (in batches, if necessarin a single, even layer and cook, 2 to 3 minutes, or until the bottoms are golden brown.

Add ¼ cup of water and cover the pan. Let cook, 3 to 5 minutes, until the dumplings are cooked through. Divide the finished dumplings and sesame green beans between your plates.Serve with the peanut dipping sauce on the side and garnish with the remaining sesame seeds and green tops of the scallions
Recipe from Good Food